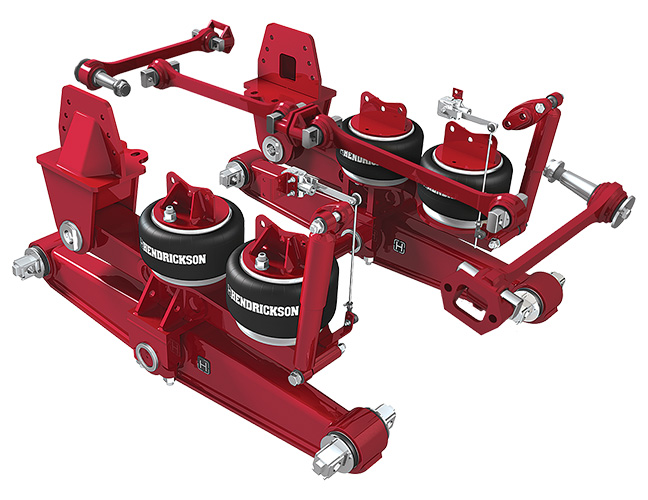 AR2™ delivers a better ride, longer life, and lighter weight for more payload capacity, improved durability for less downtime, high articulation capabilities for on/off road applications and designed and manufactured components that deliver more comfort and even better system performance.
---
Specifications
CONVERSION KIT1
COMPLETE ASSEMBLY
Model
AR2 40K
AR2 46K
AR2 40K
AR2 46K
Installed Weight2 (lbs.)
664
669
1,079
1,084
Suspension Rating (lbs.)
40,000
46,000
40,000
46,000
GVW Approval3 (lbs.)
73,000
80,000
73,000
80,000
GCW Approval (lbs.)
160,000
190,000
160,000
190,000
Site Travel Rating4 (lbs.)
55,000
60,000
55,000
60,000
Diagonal Articulation5 (in.)
14
14
14
14
Ride Heights (in.)
9.5, 10.5
9.5, 10.5
9.5, 10.5
9.5, 10.5
Axle Spacing (in.)
52, 54
52, 54
52, 54
52, 54
Lift Axles
See Below7
See Below8
See Below7
See Below8
AR2 is approved6 for vocational truck applications such as dump under 18 feet, crane/boom and platform applications.
Contact Hendrickson for approval of additional applications.
1. Conversion kit center bushing — if existing RT/RTE suspension includes bronze center bushings, they must be replaced with rubber center bushings. Bronze center bushings are incompatible with transverse torque rods.
2. Installed weight is for 52-inch axle spacing. Conversion kit installed weight includes torque rods, axle brackets and frame brackets. Complete assembly installed weight includes fabricated equalizing beam assembly, cross tube, torque rods, axle brackets and frame brackets. Any comparison to other suspensions should consider all of these components, including axle brackets.
3. Contact Hendrickson for applications that may exceed GVW approval ratings.
4. Site Travel Rating — Ratings are limited to no more than 5% of vehicle operation at speed not to exceed 5 mph. Site travel ratings are consistent with published axle manufacturer's limitations. Axle and suspension site travel specifications must not be exceeded.
5. Suspension articulation may exceed vehicle's capability and may be limited by vehicle manufacturer; vehicle manufacturer installed axle stops may restrict suspension's articulation.
6. AR2 is approved for vehicles equipped with aluminum beams up to a 38K maximum capacity.
7. No add-on lift axles
8. One or more lift axles. Maximum 50,000 lbs. load on suspension for site travel.