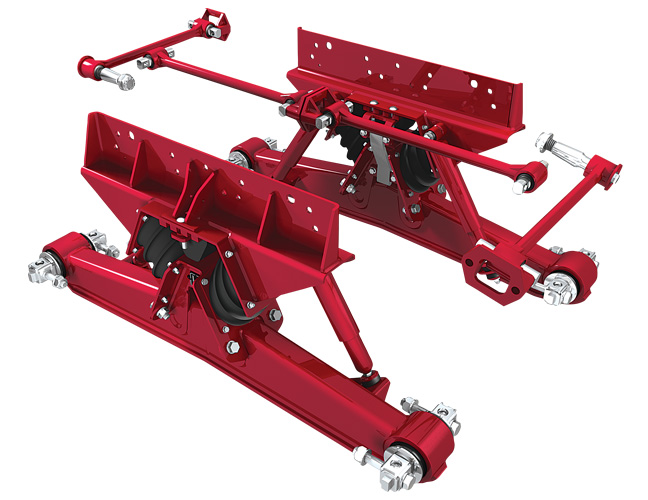 Available exclusively to the fire and rescue industry, the HN® FR suspension system utilizes a VariRate® spring system to provide the perfect balance of empty ride quality and loaded stability. Its diagonally mounted rubber bolster springs act in compression and sheer to deliver superior ride quality by dissipating road shock, while its extra wide spring centers and auxiliary springs provide outstanding stability under challenging conditions.
---
Specifications
Model
HN 402FR
HN 482FR
Suspension Weight1 (lbs.)
888
911
Suspension Rating2 (lbs.)
40,000
48,000
GVW Approval3 (lbs.)
73,000
80,000
Diagonal Articulation4 (in.)
17
17
Ride Heights (in.)
9.5, 10.5, 11.5,
13.25 and 15.5
9.5, 10.5, 11.5,
13.25 and 15.5
Axle Spacing (in.)
52, 54, 60, 72.5
54, 60, 72.5
1. Suspension weight includes complete suspension, as shown above, at 9.5-inch ride height and 54-inch axle spacing.
2. Capacity ratings approved for fire and rescue applications only.
3. Contact Hendrickson for applications that may exceed GVW approval ratings.
4. Suspension articulation may exceed vehicle's capability and may be limited by vehicle manufacturer; vehicle manufacturer installed axle stops may restrict suspension's articulation.
Hendrickson approves the use of HN FR in fire and rescue vehicle applications. All such applications must comply with applicable Hendrickson specifications and must also be approved by the respective vehicle manufacturer with the vehicle in its original, as-built configuration. Contact Hendrickson and the respective vehicle manufacturer for approval of additional applications or capacities.
For additional details regarding specifications; applications; capacities; and operating, service and maintenance instructions, refer to applicable Hendrickson technical literature or contact Hendrickson at 855-743-3733.
Actual product performance may vary depending upon vehicle configuration, operation, service and other factors.