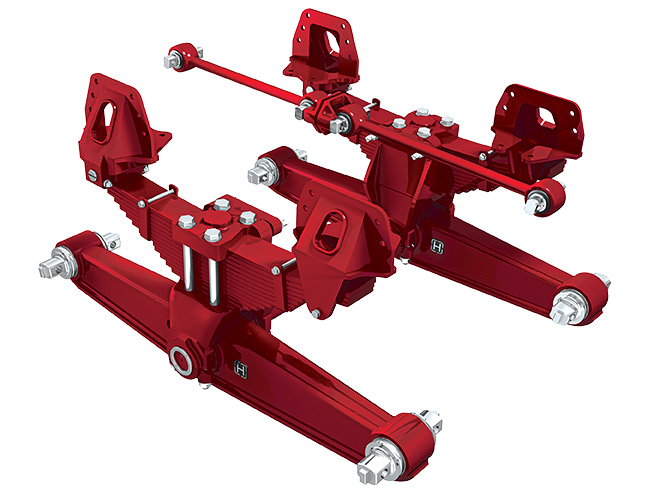 RT™/RTE™ Series is a durable steel spring suspension with a legacy of over 85 years of reliability in the most severe applications. Hendrickson-designed springs provide a consistent spring rate for longer life as the equalizing beams distribute load equally between both axles for improved traction
---
Specifications
| Model | Capacity | Installed1 Weight | Site Travel2 Rating | GVW | GCW |
| --- | --- | --- | --- | --- | --- |
| RT 343 (lbs.) | 34,000 | 1,199 | 46,000 | 60,000 | 125,000 |
| RT 403 (lbs.) | 40,000 | 1,207 | 55,000 | 73,000 | 160,000 |
| RT 463 (lbs.) | 46,000 | 1,301 | 60,000 | 80,000 | 190,000 |
| RT 503 (lbs.) | 50,000 | 1,418 | 65,000 | 80,000 | 225,000 |
| RT 523 (lbs.) | 52,000 | 1,443 | 65,000 | 80,000 | 245,000 |
| RT 650 (lbs.) | 65,000 | See 3 | See 3 | See 3 | See 3 |
| RTE 343 (lbs.) | 34,000 | 1,253 | 46,000 | 60,000 | 125,000 |
| RTE 403 (lbs.) | 40,000 | 1,242 | 55,000 | 73,000 | 160,000 |
| RTE 463 (lbs.) | 46,000 | 1,338 | 60,000 | 80,000 | 190,000 |
| RTE 503 (lbs.) | 50,000 | 1,465 | 65,000 | 80,000 | 225,000 |
1. Installed weight is for 54-inch axle spacing and includes suspension, torque rods, axle brackets, and frame brackets.
Site Travel Rating—Operations using vehicles equipped with liftable tag or pusher axles must not exceed published ratings. Ratings are limited to no more than five percent of vehicle operation at a speed not to exceed five mph. Liftable pusher or tag axles should only be raised (or unloaded) to improve vehicle maneuverability in off-road use or when vehicle is empty. Site travel ratings are consistent with published axle manufacturer's limitations. Axle and suspension site travel specifications must not be exceeded.
3. Contact HENDRICKSON Engineering.