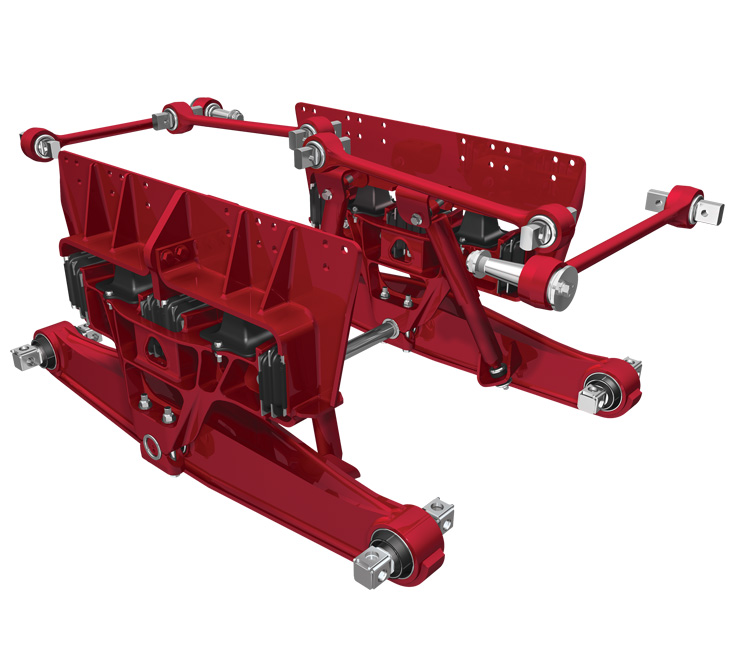 In addition to its excellent durability, ULTIMAAX® delivers enhanced stability, handling and ride quality even in the most severe-duty environments where vehicles encounter harsh and unexpected ground conditions. The integration of Hendrickson's proven walking (equalizing) beam technology, with its patented progressive rate spring, provides a balance of loaded stability and unloaded ride quality even in the most rugged environments.
---
Specifications
| Model | ULTIMAAX |
| --- | --- |
| Suspension Rating (lbs.) | 46,000-65,000 |
| GVW Approval1 | Unlimited2 |
| GCV Approval | Unlimited2 |
| Diagonal Articulation3(in.) | 17.5 |
| Ride Heights (in.) | 9.5 to 13 |
| Axle Spacing (in.)4 | 54, 56, 60 |
Hendrickson approves the use of ULTIMAAX® in fire / rescue applications. All applications must comply with applicable Hendrickson specifications and must also be approved by the respective vehicle manufacturer with the vehicle in its original, as-built configuration. Contact Hendrickson and the respective vehicle manufacturer for approval of additional applications.

1. Contact Hendrickson for applications that may exceed GVW approval ratings.
2. Suspension must be paired with appropriate axle rating.
3. Suspension articulation may exceed vehicle's capability and may be limited by vehicle manufacturer; vehicle manufacturer installed axle stops may restrict
suspension's articulation.
4. Contact Hendrickson for availability of additional beam lengths.
For additional details regarding specifications, applications, capacities, operating service and maintenance instructions, refer to applicable Hendrickson
technical literature (available at www.hendrickson-intl.com) or contact Hendrickson at 630-910-2800
630-910-2800.
Actual product performance may vary depending upon vehicle configuration, operation, service and other factors.
U.S. and foreign patents granted and / or pending.