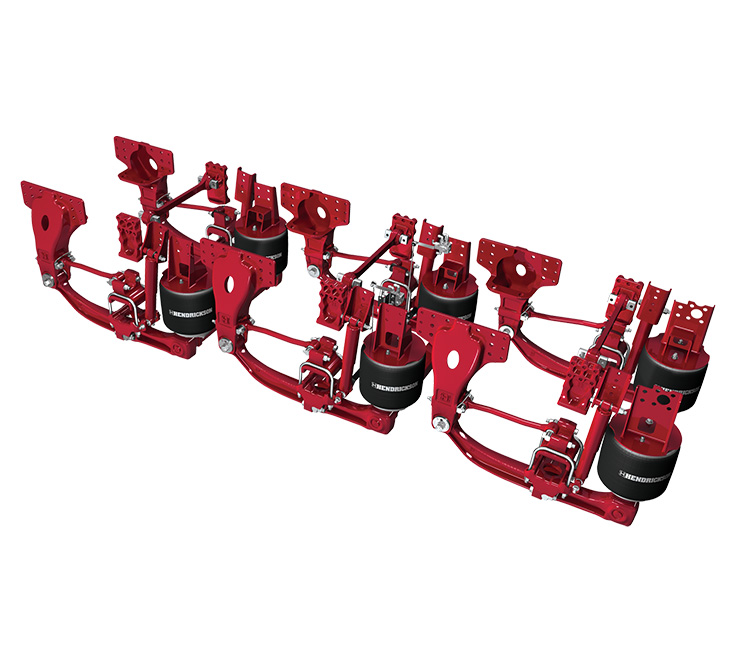 With its rugged, weight efficient design, PRIMAAX® EX is a severe-duty vocational air suspension that delivers advanced suspension technology for the rigorous demands of vocational, severe-service, and heavy-haul applications. The system features a robust structural design with optimized suspension geometry for exceptional stability, handling and ride. Suspension-induced driveline vibration is significantly reduced with PRIMAAX EX compared to competitive trailing-arm air suspensions, resulting in higher driver comfort and less premature wear on expensive truck and body equipment.
---
Specifications
Model
PAX 232
PAX 262
PAX 462
PAX 522
PAX 692
PAX 782
Capacity (lbs.)
23,000
26,000
46,000
52,000
69,000
78,000
Installed Weight1 (lbs.)
542
651
1,078
1,292
1,629
1,931
Axle Configuration
Single
Single
Tandem
Tandem
Tridem
Tridem
GCW Approval2 (lbs.)
90,000
140,000
190,000
245,000
See 6
See 6
Site Travel Rating3 (lbs.)
30,000
33,000
60,000
66,000
90,000
99,000
Axle Travel4 (in.)
8
8
8
8
8
8
Ground Clearance (in.)
10.75
10.5
10.75
10.5
10.75
10.5
Lift Axles
Approved
Approved
Approved
Approved
Approved
Approved
Ride Heights5 (in.)
8.5 to 10.5
12.5 to 15.5
8.5 to 10.5
12.5 to 15.5
8.5 to 10.5
12.5 to 15.5
8.5 to 10.5
12.5 to 15.5
8.5 to 10.5
12.5 to 15.5
8.5 to 10.5
12.5 to 15.5
Engine Torque Restrictions
None
None
None
None
None
None
Axle Spacing (in.)
N/A
N/A
52 to 72.5
54 to 72.5
52 to 60
54 to 60
PRIMAAX® EX is approved for vocational and heavy-haul vehicle applications including, but not limited to: truck, tractor, dump, front and rear discharge mixer, logging, crane mounted, platform, fire / rescue, specialty and vehicles equipped with outriggers. All applications must comply with applicable Hendrickson specifications and must also be approved by the respective vehicle manufacturer with the vehicle in its original, as-built configuration. Contact Hendrickson and the respective vehicle manufacturer for approval of additional applications.
For additional details regarding specifications, applications, capacities, and operating, service and maintenance instructions, refer to applicable Hendrickson technical literature or contact Hendrickson at 630-910-2800.
1. Installed weight includes complete suspension, torque rods, axle and frame brackets and all hardware. Published weight is for standard PRIMAAX EX suspension using 10.0-inch ride height. Other configurations may change weight.
2. Contact Hendrickson or original equipment manufacturer for applications that may exceed GVW / GCW approval ratings.
3. Site Travel Rating — Operators using vehicles equipped with liftable push or tag axles must not exceed published ratings. Ratings are limited to no more than five percent of vehicle operation at a speed not to exceed five mph. Liftable pusher or tax axles should be raised (or unloaded) to improve vehicle maneuverability in severe-duty use or when vehicle is empty. Site travel ratings are consistent with specifications and must not be exceeded.
4. Axle travel may be limited by vehicle manufacturer; axle stop settings and shock stroke may restrict suspension's articulation. Varying ride heights and configurations may restrict travel.
5. For different ride height options, please contact Hendrickson, your truck manufacturer or dealer for further information.
6. Refer to axle manufacturer's recommendation.