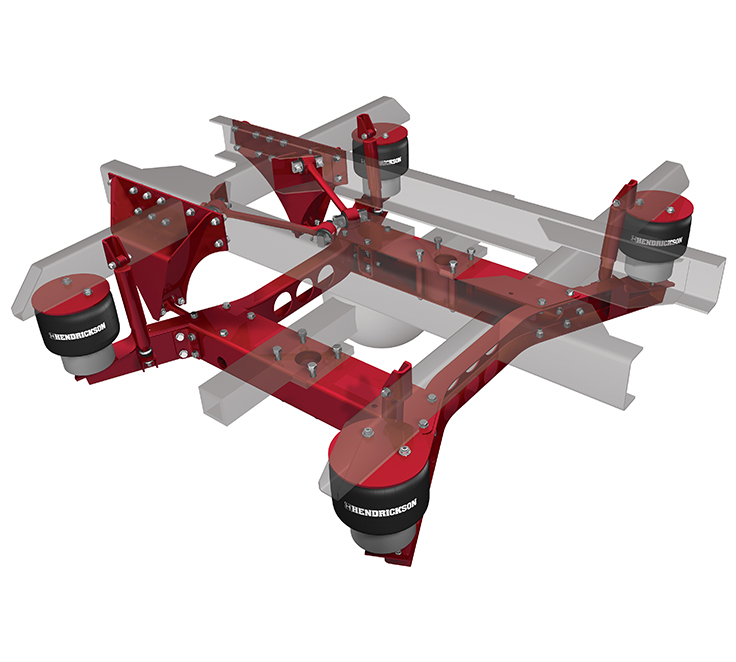 LUXAIR™ is a premium drive axle air suspension ideal for transit and coach bus applications. Utilizing Hendrickson's expertise in vehicle dynamics, this suspension can package with a variety of air springs and shock absorbers to ensure optimal performance no matter the application. The fabricated construction allows for flexibility, simplifying packaging for a variety of frame types and body styles. The efficient design also results in a lightweight solution that maintains the durability and performance expected in demanding transit and coach applications.
---
Specifications
Scalable Capacity
Installed Weight1
Axle Travel2
Ride Height3
Brakes
Engine Torque
Restrictions
Up to 14 t
355 kg
+/- 76 mm
178-267 mm
Drum or Air Disc
None
All applications must comply with applicable THSL specifications and must be approved by the respective vehicle manufacturer with the vehicle in its original, as-built configuration. For additional details regarding specifications, applications, capacities, service and maintenance instructions, contact THSL.

1. Installed weight includes complete suspension, V-rods and all hardware. Published weight is for LUXAIR at a 178mm ride height. Other configurations may change weight. Axle brackets and frame hangers are not included.
2. Axle travel may be limited by vehicle manufacturer; axle stop settings and shock stroke may restrict suspension articulation. Varying ride heights and configurations may restrict travel. Contact THSL for maximum axle travel values for LUXAIR.
3. For different ride height options, please contact THSL, the vehicle manufacturer or dealer for further information.

Actual product performance may vary depending upon vehicle configuration, operation, service and other factors.